May 13th, 2013 — 6:02pm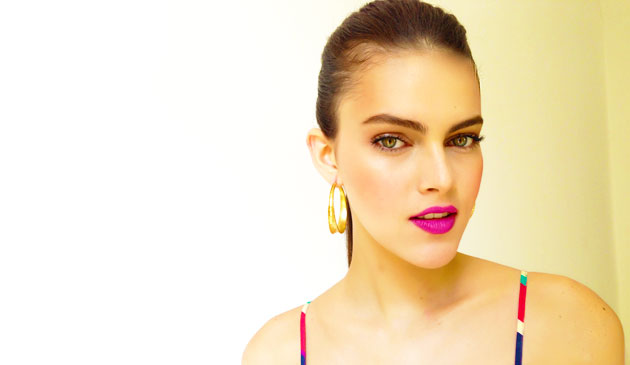 You're looking at a picture I took on set the other day of the gorgeous Brazilian model, Kamila Hansen, wearing very little on her face other than an intense purple lip. I realize that it's only on the days when I truly enjoy the personality of the model with whom I'm working that I think: I'd like to feature her on my blog. No matter how gorgeous she is, or how wonderful the makeup I've done that day, unless the model radiates beauty from within, I never want to grab my camera and snap pictures of her between shots.
Kamila, fortunately, is beautiful on both the inside and the out (not to mention extremely tall! I needed a ladder to touch up her lips during the day) and reminded me a bit of another beautiful Brazilian model I adore, upon whom I demonstrated a smokey eye in a video, early on in the life of my blog, here.
I rarely have the opportunity to push for a bright purple lip, but on this brunette with sparkly green eyes, I knew it would be a hit… and it was.
This is what I used to get the whole look:
I prepped her skin with Ila Rose and Sandalwood Face Oil For Glowing Radiance.
I used Ilia (not the same brand as the face oil- note the different spellings) face highlighter in Polka Dots and Moonbeams on her forehead, bridge of her nose, cupid's bow, and tops of her cheekbones. I applied Ilia's Sway – a highlighter but with a bronzing touch – under her cheekbones and under her temples. I like to use a small, fluffy synthetic brush, and swirl it in small, circular motions. You can also use your fingers to tap it on if you prefer.
I curled her lashes a number of times with my favorite, Shu Uemura lash curler.
On her eyes I pressed RMS living luminizer onto her lids and lightly set it with Kjaer Weis eyeshadow in Cloud Nine.
I coated every single lash with black mascara (to be honest, I don't remember which one, but we can assume it was cover girl lash black in very black.) SIDE NOTE: I'll begin testing a new slew of natural mascaras soon. If you have a favorite, please message me with the name.
Onto her cheeks and temples I dusted Dr. Hauschka bronzer on top of the cream highlighter with a very fine, fluffy blush brush.
I used Tarte's brow color to darken and thicken her already fantastic eyebrows.
To get this purple mouth I used  BITE beauty high pigment matte pencil in Violet, and drew a number of layers onto her lips straight from the crayon. I couldn't believe how vibrant it was!
Comments Off on continue getting into the swing of spring with another bright and bold lip | ...Here's how to