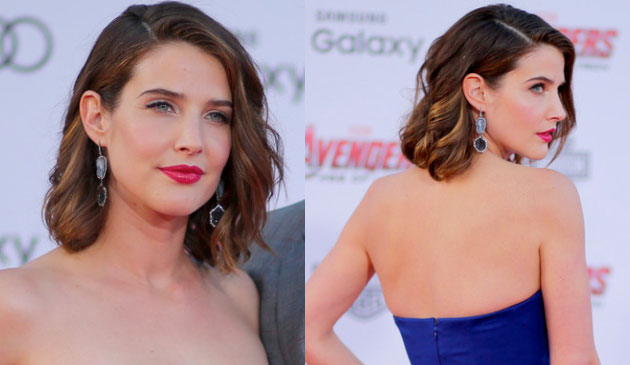 I can't stop looking at these pictures. This beautiful young actress, Cobie Smulders, is a stunner without a lick of makeup on her face, but with just a little extra color and definition here and there – WOW; she becomes such a great blend of old Hollywood glamour and runway fashion star.  I can imagine her reaction while reading this: she'd likely be making funny crossed eyes and duck lip face at me for saying all these swoony things about her. That's what makes me adore her so.
The main focus of this look is of course the berry lip that I blended for her to complement the royal blue of her dress and her eye color, but it's also about the dark lash line and surfers' wave curl of her lashes, that takes it to the next level.
Here's what I did, so you can do it, too:
1. I started with a face oil massage to get her skin super glowy.
2. I spent time curling her lashes at the root, over and over, to really get them as high as they could go.
3. I pressed a transparent robin's egg blue shadow along her lid and blended it into the crease.
4. I pressed a very sheer champagne shimmery shadow into the corners of her eyes and under her bottom lash line
5. I coated her lashes in very black mascara 4 times, adding a few extra individual lashes to make it extra full. I spent extra time defining her bottom lashes so they could be seen from afar.
6. I smudged black liner into her upper lash line and between her lashes.
7. I pressed black shadow into her upper lash line on top of the black liner.
8. I used a very sheer foundation to even out her skin tone.
9. I used a very pale highlighter to accentuate her cheekbones, bridge of nose, and cupids bow.
10. I filled in her brows using a cool brown pencil.
11. I swirled a bit of a pink creamy cheek color onto the apples of her cheeks.
12. I mixed a deep red and a bright hot pink lipstick and colored in her lips.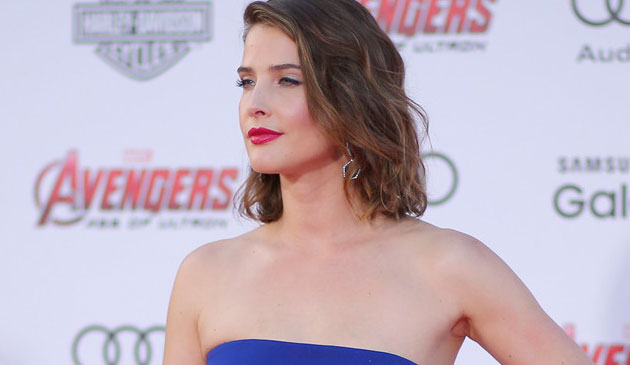 You can see how just the slightest adjustment in the photographers processing and/or lighting will result in an entirely different makeup look. See the image below, how red her lips appear, when in real life they were much more of a rich berry tone. You'll also notice in the photo below it looks as though she's wearing nothing on her cheeks, when you can clearly see from the photos above, a very rosy hue.
Thanks for making my work so easy, Cobie! xo