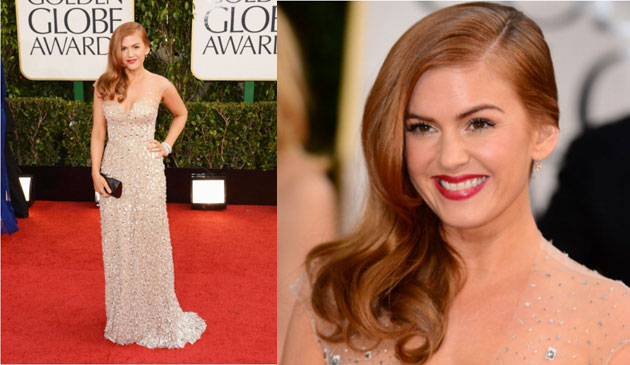 Being in Los Angeles for awards season is a dream come true. Working on this gorgeous red head last night = the absolute best!
Isla's go-to is always a smokey eye and neutral lip. On the drive to her house I thought: I'd like to change things up for this red carpet walk; I really hope her dress has a bit  of old hollywood glamour to it so I can go bold with a lip. I wonder if she'll go for it…
When I walked in and saw Isla's beautiful tanned skin, and then when she put on the gorgeous Reem Acra gown, I totally knew I would be able to convince her to let me keep her eyes neutral and really go for it with a rich burgundy/berry lip – with just a hint of gloss.
The discussion began between the hairstylist, stylist, Isla, and me: should the hair be up or down? should the earring be diamond or emerald?
Finally it was my turn to put it out there: "I think it should be all about a beautiful and intensely colored lip", I said to everyone.
Much to my delight, they agreed!
And so, Isla walked the red carpet last night – and has since received a TON of press glowing about how gorgeous she looked – and I couldn't agree more.
HOW TO GET THE LOOK:
Disclaimer: I always mix products, whether it's eyeshadow, blush, or lip color. It's often difficult for me to respond to requests to share exactly how I got the look, because I mix and match and mix some more until I get the exact shade, density, and intensity that I want. However, in this case, I can tell you with certainty, that the three main product lines I used to get this look are the best… and are all-natural!
1. Kjaer Weis eye shadows in Cloud Nine and Charmed
2. Vapour organic blush in 205, 208, 213
3. Plum Lip Shimmer from Burt's Bees, (mixed with a bit of Arabian Knights from Ilia), topped with a touch of Starry Nights Lip Gloss from Burt's Bees.
I rushed home to watch Isla walk the red carpet, but I missed her because of Los Angeles traffic. Thanks to all of you who texted and emailed me while I was in the car to tell me how gorgeous she looked!