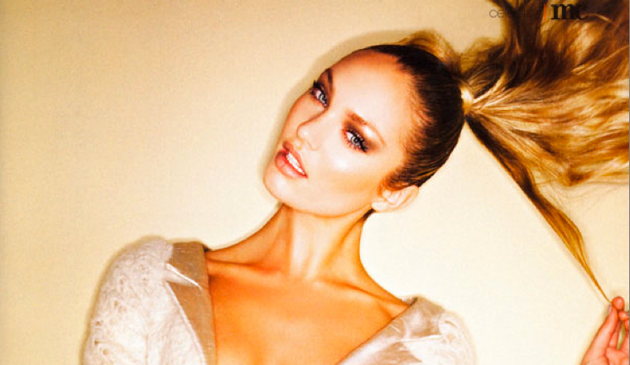 South African supermodel Candace Swanpoel is no stranger to time in the sun from all the Victoria Secret photoshoots she does. She's smart, however, in that she protects her face from direct sunlight, and so when we did this shoot, she was happy to have a little assistance from my makeup kit to get her face glowing even more than it does naturally.
Bronzer can go from giving that sun-kissed glow to giving you an orange-y caked on mask look pretty quickly. Always avoid bronzers that are too orange, no matter what your skin tone. It's super important that you only bronze yourself in the places where an extended stay in the sunshine would get you the most golden: across the forehead, certainly along the cheekbones, down the bridge of your nose if your face lends itself to that, and across the collar bone. Swirling a little onto your temples can be nice, too.
For women of color who with very dark skin tone, it's always my suggestion not to use a powder or a shimmer bronzer as it can appear ashy and flat. Instead, hydrate well with a facial oil and then sparingly use a non-petroleum balm (like Alba un-petroleum)  to highlight cheekbones and the bridge of your nose. Your face will glow! (if it glows too much, grab some blotting papers and press into the parts you want to shine a little less).
There are two main types of bronzer: those with shimmer, and those without.
I tend towards SHIMMER-FREE bronzers during daytime hours (at the office, around town on the weekends, etc.) to add a touch of color and depth to the face.
I opt for those with shimmer for nighttime and for photoshoots when light will catch the shimmer and the parts on which you put it  (once again): the cheekbones, a little across the forehead and down the nose, and on the collar bone, making those parts radiant.
Many people will disagree with me for suggesting that bronzers with shimmer can be used at any time. I've just seen what happens when the pretty sun-kissed color disappears as the hours pass, and all that's left on the skin are the (sometimes not so small) pieces of shimmer. THAT is definitely not a good look. I must say Becca has done an exceptionally good job with making shimmer particles teeny tiny.
Below you'll find my current favorites in both shimmer and shimmer-free bronzers in powder and cream/liquid forms. Write to me on Facebook if you have a favorite you think I must try!
For those of you who are looking for a great non-toxic (all natural, organic, etc.) bronzer, I'll note them as GREEN PRODUCTS.
SHIMMER-FREE BRONZERS
POWDER:
These need to be applied to well moisturized BUT 100% not moist skin, otherwise you'll risk depositing more color in some areas as you sweep your brush along your skin, which will make you look blotchy.
Alima Pure light, medium and dark matte bronzer (GREEN PRODUCT)
Bobbi Brown Bronzing powder  – All the colors are really good but my current favorites are Natural (for medium complexions) and Deep Chocolate (for darker skin)
Smashbox bronzer – light in both Sunkissed Matte and Suntan Matte
I often use loose setting powder from YSL as a matte bronzer  in 1.5- 2 shades darker than the natural skin color, as well
CREAM/LIQUID:
Generally a liquid or cream bronzer with no shimmer is similar to a sheer foundation in a medium to dark shade.
Dr. Hauschka Translucent Bronze Concentrate  – a translucent bronzer that can be mixed with your moisturizer (not to be confused with a self tanner – this color can be washed off) (GREEN PRODUCT)
 I often use sheer cream or liquid foundation as a non-shimmer bronzer in 1.5-2.5 shades darker than the natural skin color. My favorite is the Armani Luminous Silk, but I'm exploring green product options and will update you on my findings soon.
To quickly take your daytime shimmer-free cream bronzer into a nighttime shimmery-look, add a little of RMS living luminizer (GREEN PRODUCT) with your finger along the cheekbones, down the bridge of the nose and on the cupids bow (the top edge of the center of your top lip).
SHIMMER BRONZERS
POWDER: 
All shimmer bronzers should be thoroughly evaluated in bright light to make sure that their shimmer particles are teeny. You should barely be able to see the small glitzy pieces without a close, personal inspection. I'm a real stickler about this – not so much for photoshoots, where bright lighting will tend to blow out the shimmer particles nicely, but for every day wear, NO PIECES OF GLITTER DURING THE DAY, PLEASE!
 CREAM/LIQUID
Apply powders with a large, soft bronzer or powder brush in gentle swirling motions across your skin.
Creams and liquids can be applied in small tapping motions with fingers, slightly damp sponges or stippling and foundation brushes, and then blended or massaged into the skin to ensure no 'tan lines'. They can also be mixed in your palm with your moisturizer and then massaged onto the body.