November 10th, 2014 — 3:44pm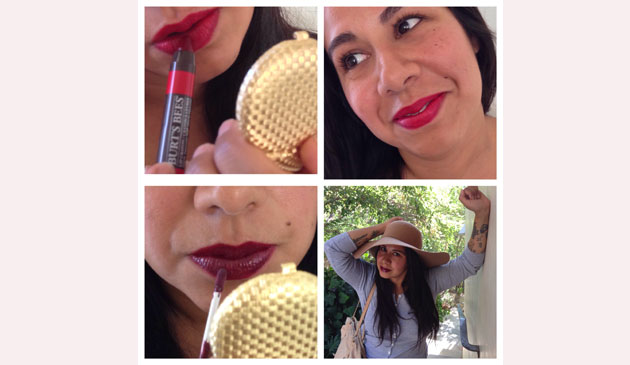 When my friend Jessie stopped by my house recently, I couldn't resist asking if I could dress up her lips with some colors of the season. I knew she would look gorgeous in Burt's Bees all-natural semi-matte lip crayon, 'Napa Vineyard', and boy oh boy, did she ever. I topped it with just a bit of Burt's Bees tinted lip balm in 'Rose' to keep her lips feeling perfectly moisturized.
Later in the evening when we were getting ready to go out, I had a thought: we should add a few coats of Burt's Bees all-natural lip gloss in my favorite deep, rich purple-tone, called 'Starry Night', and see what happens.
The result was so super pretty. A very different, but still deep, richly pigmented, multi-dimensional color, just perfect for falling temperatures, snuggly sweaters… and a hat.
If you'd like help finding the shade I think will look best on you, click here and here to explore the Burt's Bees Lip Shade Finder and Lip Tip Library.
Thanks for showing off the lip colors so well, beautiful Jessie! xxx
This is a sponsored conversation written by me on behalf of Burt's Bees. The opinions and text are all mine.
Comments Off on Be perfectly on-trend with two of my favorite rich, classic, fall lip colors. | ...Here's how to