August 20th, 2012 — 8:02pm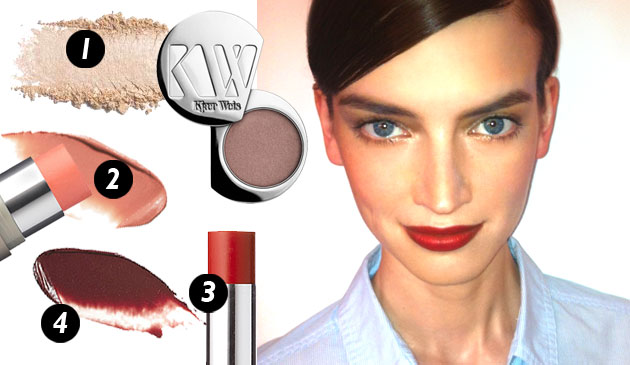 Today marks the start of a beautiful partnership.  Spirit Demerson, founder and owner of Spiritbeautylounge.com, the wonder woman who introduced me to so many fantastic green lines of makeup and skin care, and I, are teaming up to bring you 'get the look' blog posts.
I do the makeup while on a photo shoot, take the model's picture at lunchtime, and send it off to Spirit to pair it with images of the products I used. Hallelujah!  This will make it so easy for you to quickly 'get the look', because you'll be able to see the exact products I used, read how I used them, and click on the link to Spirit's site to buy them. Couldn't be easier.
To kick things off, please allow me to present the lovely Canadian model, Marla Boehr.
I prepped her skin by massaging in a few drops of Ila Rose Oil to combat the in-flight dryness I saw around her eyes, nose, cheeks, and mouth (She'd just flown in from Canada).
On her skin:
On her t-zone I sparingly pressed liquid foundation from Vapour Organic Beauty in number 125 and to make the finish look like bare skin, I lightly pressed it in with a slightly dampened beauty blender sponge.
On her eyes:
1. All over the eye area I pressed Kjaer Weis's charmed shadow in a very sheer application with a medium domed brush. I blended it from the lid up all the way to her brow, sheering it out the further away from her lid I got. I swept some underneath her bottom lashes from edge to edge, as well.
In the crease of her eye I pressed a more tightly-domed shadow brush topped with  Kjaer's shadow, Wisdom, and used a fluffier domed shadow brush to really blend it into the crease. I took what was left of the shadow on the tightly-domed brush and concentrated the placement of it under the iris, while using a cotton swab to barely blend it towards the edges.
In the inner corner of her eyes I pressed Kjaer's shadow, Cloud Nine, which really made her eyes pop.
On her cheeks:
2. Onto a soft-tipped fluffy, but not densely packed brush, I blended together Ilia's 'All Of Me' and 'I Put a Spell on You' and swirled it onto the apples of her cheeks. I used the same sponge I used on her t-zone to gently blend out the edges.
On her lips:
3. & 4. I used a combination of Ilia's 'Femme Fatale' and Vapour Organic Beauty's 'Siren Ravish' lipstick.  I first pressed Siren Ravish into her lips, and had her mash her lips together to really stain them. Then I applied Femme Fatale with a brush over top of the deeper shade, Ravish, and had her press her lips together a few times to really combine the colors.  I finished the application by gently tapping the pads of my fingers over her lips to soften the texture. Combining the two shades on the lips in this way creates a real depth to the mouth and wears wonderfully.
Finally, these are not products that Spirit has in her online boutique, as they're not 'green', but I really like how they look and haven't found an alternative that I like quite as much.
On her brows:
I used Laura Mercier Brunette Brow Pencil and Paula Dorf Brow Powder in Neutral
On her lashes
I used Covergirl Lash Blast in very black – very sparingly on top and bottom.
I'll be testing out using different cameras for these how-to's. This one was taken with my cracked-screen iPhone, which I think will be going into retirement.  Regardless, Marla rocked this look incredibly well and everyone on set loved it. Note: We were shooting clothes for the Fall, when lip color gets more deep and eyes become a little more intense. Try a purple, a burgundy or a brownish-red this Fall and you'll be totally on-trend.
Comments Off on Get The Look Numero Uno: Sheer taupe eye with a 2-dimensional red lip = Shazaam! | ...Here's how to