November 29th, 2014 — 5:49pm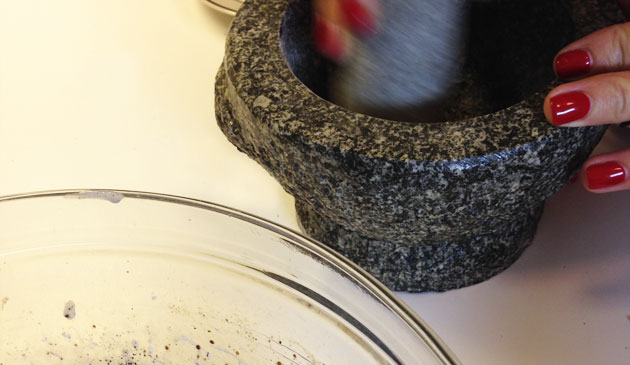 I visited Jenette Serrins at Being In LA, her lovely one-bed spa studio, to photograph her as she hand-made her latest must-have skin-healing, clearing, hydrating, and deliciously (naturally) scented face scrub. She calls this creation 'From Costa Rica, To LA, With Love', and she's offering it as a limited edition product because the ingredients are on short supply; she collected the volcanic ash herself, on her last trip to the central american country.
After watching her hand-make the all-natural product (see the pics below), and experiencing how awesome it is during a treatment, I grilled her about what makes it so special. The quick back-story on why I'm a Jenette devotee: I saw a complete turn-around of my own skin when I started seeing her and using her products over a year ago. I'd tried countless products since my teens, to treat my acne-prone, dehydrated, all-around dull skin- to skin, and now I can honestly say that I get compliments on my glowing skin all the time. I still can't believe it.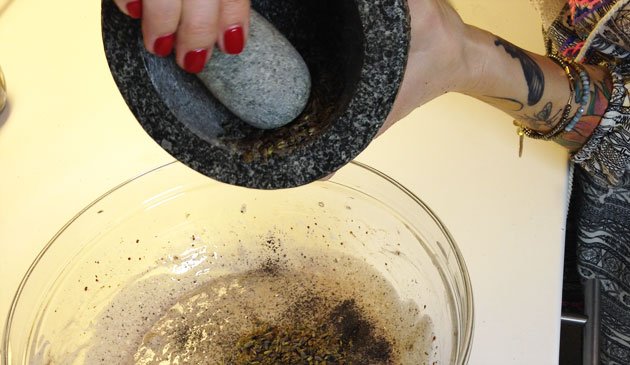 So this is what Jenette had to say about her latest formulation:
The gentle grit of the volcanic ash from Mt. Arenal (along with the cinnamon) works to flush impurities out of skin, and assist in bringing fresh new skin cells to the surface for a bright, clean and renewed face. It's like you're giving yourself a gentle microdermabrasion treatment, which helps to ensure that the rest of your skincare regimen can penetrate more effectively, and deliver rich ingredients more intensely and deeply.  You can apply it alone, or mix it into your face wash.
'I created it for people with both sensitive and dry skin. Most folks with sensitive skin can't scrub without risking irritation and inflammation, but with this scrubbing mask, you'll find the base ingredients of zinc, magnesium, and aloe, to be super soothing and hydrating, allowing you to exfoliate and detoxify, without the 'dry-face effect'.' She says it's so gentle, it can be used one to three times a week. Plus, she added pumpkin seed oil, which is rich in alpha omega fatty acids, but non-pore clogging.  She suggests taking a nickel sized amount onto a damp face, massage it in gently, leave it on for a minute, and then rinse and pat dry.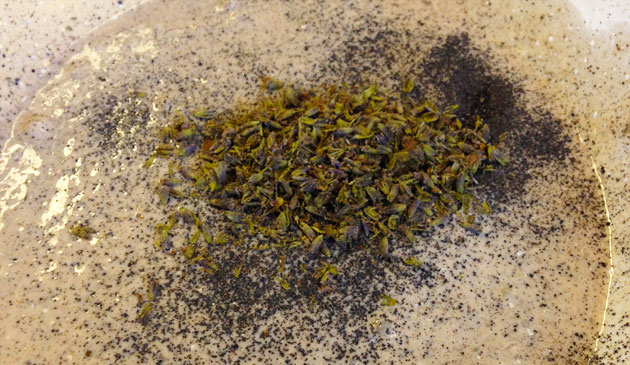 Jenette isn't selling this limited-edition mask online, but if you're not local to Los Angeles, you can call or email her salon directly to request one be sent to you.  While you're on her page, you'll find her 3 top selling products – all of which are handmade with love and formulated with years of expertise.
This is the view of the smiling-faced Jenette, as she painted her other fantastic mask (which smells like chocolate!) on my face recently: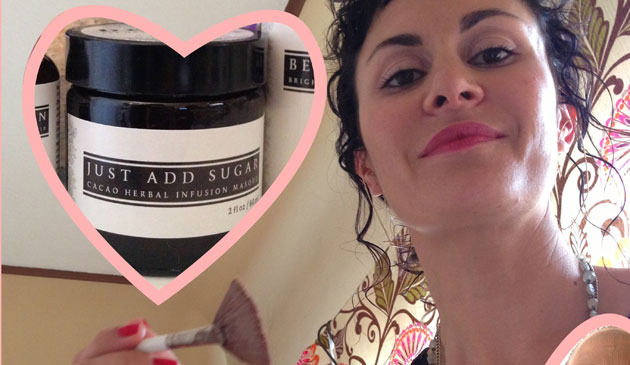 and finally, a close up of the three products you'll find for sale right now on her site, each for which I can personally vouch.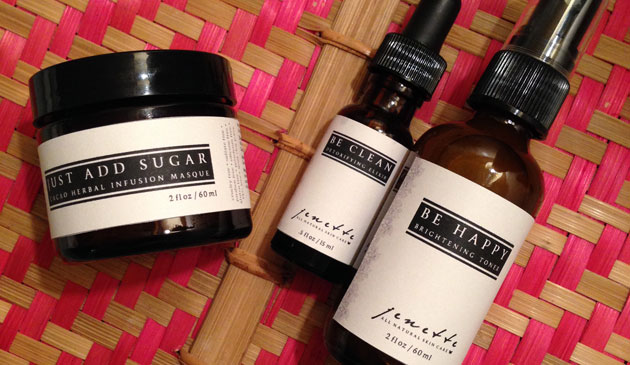 One key point to remember is that if you've accustomed your skin (as I had, not realizing there was another way) to the use of harsh synthetic chemicals and prescription antibiotics to clear your acne, it will take time and patience before you see results. I had a difficult time with this – I wanted immediately clear and hydrated skin, and I struggled with what I thought was a need for antibiotics during the times that my skin was breaking out. As the months passed, I watched the transformation (exactly what Jenette said would happen!), and with regular treatments and the use of her products at home, I really can leave the house without foundation or even spot-concealer, most days.
I wish the same for each of you.
I encourage you to support small businesses like Jenette All Natural Skin Care, and all the others I've written about on this website, and find the clear-skin formula that's right for you.
x
Comments Off on meet my favorite facialist, Jenette, and support small business saturday! | ...I love this