November 27th, 2013 — 4:10am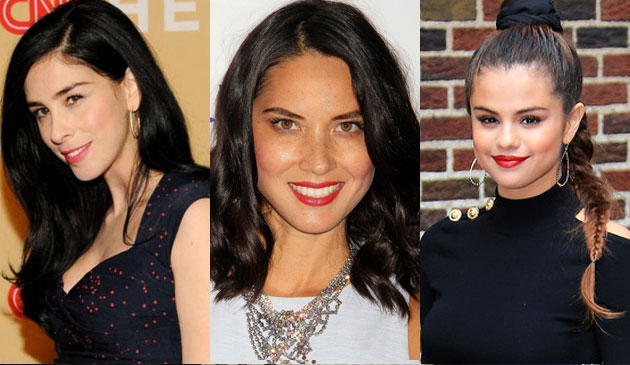 Honestly, it hasn't been me always pushing for the red lip and soft cheek color you've seen me do for so many of my clients… although I do love the look. I mean, look how gorgeous Sarah Silverman was when sporting the matte, intensely bright, yet sheer pop of color I chose for her. Olivia Munn's smile was overwhelmingly beautiful when I painted it a bold blue red with a hint of creamy shine. Then there's Selena Gomez who I gave a number of intensely pigmented creamy layers of matte orange-red crayon, and then topped them with a strategically placed highlight color in the middle of her bottom lip and just under her cupids bow that kept her radiant as she smiled, talked, and sang her heart out.  Nope, it's by far the most frequently requested look for red carpet events by the beautiful women who will be wearing them.
I can't tell you how many inquiries I get from you wonderful folks who follow my blog/facebook/twitter/instagram, as well as from beauty editors at all of our favorite magazines and blogs, asking me to share which products I use for the perfect red lip of all finishes and intensities. With that said, I feel that the time has come for me to give you a quick run down of some of my current favorite red lip products. Red lips can be the thing that takes your look from au natural to va va voom, and your confidence level from blah to bold.
These are things I've learned that i'd like to pass along to you that will help you make the most of your painted lips:
Always make sure you've exfoliated your lips, especially the inside part of your bottom one. The best time to do it during or after a warm shower, and the best way to do it is to use a soft toothbrush, a soft washcloth, a makeup wipe, or even the pad of your finger (really only works when you've been in the shower for a bit). Gentle little circles, and never harder than you'd scrub an overripe tomato.
Use a lip liner if you want a more precise edge, if your lipstick tends to bleed into the lines around your lips, or if you're a lip licker and your color tends to fade quickly. The harder wax formula of a liner will help your lipstick stick around longer. I haven't found any lip liners in the green beauty world that are intensely red (if you know of some, please let me know!), and my go-to's are always usually Cherry and Brick, from MAC.
Once you've finished applying your color, place a q-tip between your lips, with the tip of the swab side touching your front teeth, parallel to the floor. Form a kiss shape with your lips around the qtip and gently drag it out of your mouth, allowing it to pass along the inner parts of your lips, to remove any excess color that would otherwise have set up camp on your teeth. (aack!)
 Bring the lipstick with you, along with a tinted lip balm, or even just a regular old clear lip balm. In case you don't have a chance (or the interest) to check your lipstick every so often, re-moisturizing with a corresponding shade of tinted lip balm can help keep the color even and crack-free.
Ok, so which products can you turn to if you want to recreate the above looks that I did?
On Sarah:
A light application, applied with your finger, of OCC lip tar, in NSFW, and into your purse slide a  Rose tinted lip balm from Burt's Bees for touch ups.
On Olivia:
A number of good thick swipes of Ilia's Wild Child lipstick and top it with Ilia's Crimson and Clover tinted lip conditioner.
On Selena:
There's a lot going on in a lip color like this. I love to mix and blend and create depth by using different shades and textures, but you could certainly create a similar look with fewer products   From BITE beauty, a thick swipe or two of the crayon called Poppy as your base, a light tapping of Bite Beauty's Pomegranate crayon along your lips, and finish by pressing either a lip brush, or your finger, coated with Red Apple Lipstick in Sunkissed (a bright orange) into the center of your bottom lip, and along the under side of your cupids bow for a little highlighty gleam action. If you didn't want to go the green products route, you'll find a similar color lipstick from MAC called Ruby Woo.
There is no wrong time to wear a lip color that makes you feel good, and no matter what size your lips are, how 'bad' you are at makeup, or because you've never done it before, you should try out a red lip at least once in your life. Find one that YOU like and then parade around in front of family, friends, and strangers, and see what kind of reaction you get. So listen, if you decide to rock an intense red lip to the thanksgiving dinner table tomorrow night, just remember:  you can check the status of your application by angling your knife just-so, as you're cutting the veggies on your plate, and no one will be the wiser.
Kisses!
Comments Off on many of you have written: what'd you use on her lip? i need that red! | ...We're all connected