March 21st, 2012 — 1:15pm
I'm new to working with this beauty. I loved how other makeup artists painted her up for last year's Screen Actors Guild Awards and for the Golden Globes, and I wanted to make sure the makeup I gave her held up to their  high level of artistry. So far this week none of the public appearances I've readied her for have been quite so glamorous, but I work from the mindset that no matter what my client is going out to do, they're going to walk out that door looking incredible.
This makeup look is from an event the Mad Men cast attended last night, and it's pretty simple: liquid and gel black liner, lots of mascara, a perfectly flushed cheek and a pink/rosey lip bring a soft edge of femininity to this look that's complete with slicked back hair, a boxy-shouldered Helmut Lang blazer and grey leather skinny pants.
What's most stand out to me is just how radiant her complexion is – she's neither shiny nor matte – and appears to glow from within. Granted, the lighting was pretty great in this photo, which isn't always the case in these kinds of 'okay, line up celebrities, we're going to take a million pictures of you at this event now' photos, and sometimes I'm devastated by the way a makeup look that appeared flawless in person looks in some of the red carpet images I see the following day. However, with January, a large part of that comes from the beauty she has within – I can tell you that with certainty – but just in case you were wondering, here's what I used to get her skin to reflect that inner radiance:
Tata Harper 100% Natural Hydrating Floral Essence: This spray smells incredible and is infused with scents straight out of a flower garden… the one at Tata's farm in Vermont! The scent of jasmine, tangerine and grapefruit add to the intoxicating aroma, and the hyaluronic acid (don't be scared of the word acid – this kind of acid is really beneficial!) make it great for retaining moisture. It's good for use on your entire body as well as your hair, and I often spritz it all over myself instead of/in addition to wearing perfumed oil.
Tata Harper Replenishing Nutrient: This really light, super fragrant blend of oils is one of my top favorites of all time. I have yet to encounter someone who doesn't love it. I won't go into all the good stuff it imparts in your skin here – I'll save that for another post, but for now, just know that oils like this are rare (one of my other three favorite face oils right now is one from Kahina Giving Beauty ,and I used it on her today and her skin loved it, as well). When you use a face oil, just like when you use as a serum, make sure you take the time to really – but gently – massage it into your skin. Try to forget they're your own hands and pretend you're getting a spa treatment!
Tata Harper Reparative Moisturizer: Once the Replenishing Nutrient Oil had been absorbed, I gently added a little touch of this light, fragrant lotion to January's skin to hold in all the moisture.
One thing that I love about Tata's line is that she uses no preservatives, so there are no nasty extra's you don't need getting in the way of all the good stuff. What that does mean, however, is that you MUST abide by the use-by date on any product that has an emulsifier in it – i.e. the moisturizers and serums. That means enjoy using your products every day and don't be stingy and think you can make a bottle last longer than advised- your face won't benefit nearly as much!
Now I acknowledge that this isn't a skincare line for someone who's on a tight budget, but it's definitely one of the best – and i don't just mean that it's one of the best on the natural beauty market – i mean it's one of the very best on the skin care market as a whole, with Tata overseeing everything that goes in to her products (read her story here), and also, it's your face – something you present to the world every single day, and the skin on your face goes through a whole heck of a lot with all the talking, laughing, yawning, crying, and sneezing we do, let alone all of the harsh elements it comes in contact with, and the way we don't always eat or drink what we should (regardless of what products you slather yourself with, if you don't eat or drink healthfully, your skin will likely show it). Don't worry, though, there are less expensive lines that are working hard to compete, and I'll post about some of them in future entries. I promise!
Now back to January: Don't you agree – she's glowing?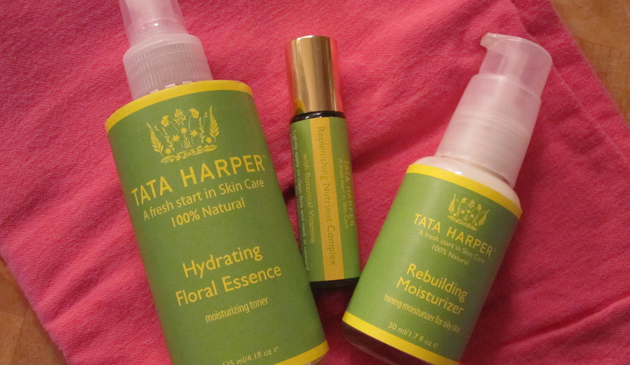 Comments Off on how I made Mad Men's star, January Jones', face glow | ...Here's how to