July 15th, 2012 — 8:51pm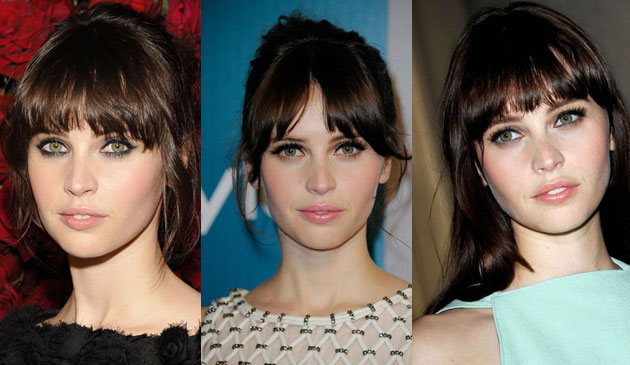 Over the past few months, you may have seen this lovely English actress in all the fashion magazines as the new face in the Dolce & Gabbana ads(she nudged out the beautiful Scarlett Johansson), and pretty soon you'll see her on the silver screen opposite Warren Beatty.  Felicity is a dream to work with. Not only is she really as sweet and funny as you'd hope she'd be, she also has a cool, defined style, yet she'll let me play with her makeup a little bit to keep each red carpet look interesting.
This is one of those looks that works on many women, regardless of your age, skin tone, and comfort level when it comes to doing your own makeup: play up your eyes with a little smudgy liner, swipe on tons of mascara, (experiment with false lashes if you dare) and keep the rest of the face looking like you've just had some good exercise…or a little too much red wine: ever so slightly flushed in the cheeks. Not everyone will look right in a pink check and lip, but a similar pale shade to complement your skin tone  (could be a minimal bronzer on the cheek and a tawny lipstick if your skin tone is deeper) which shouldn't be too hard to find.
As you know, I use a mixture of 'green' and mainstream products on most of my clients. As I've said before, I think it's about limiting your overall exposure to certain ingredients, and if you have a specific black eyeliner that you adore that smudges just perfectly and stays put all night, then by all means, don't feel badly about using it.
In all honesty, I don't remember exactly which products I used on Felicity in each of these lovely images. I do know, however, exactly how I could create them using 100% good-for-you cosmetics. I love that the 'green' beauty products industry has come this far!
In general, my favorite part of any look is the lashes. It's fun to layer on the mascara or really play up the drama with a strip of falsies, or with a few individual clusters spaced along the outer edge of the top lid. Send me your photos via my Facebook page of how you do this type of look on yourself. I can't wait to see!
Thank you, lovely Felicity, for wearing my art work so well.
Comments Off on I love these looks I did on the gorgeous Felicity Jones: smouldering eyes, perfectly pink cheeks, sheer, natural lip color. | ...Here's how to