March 30th, 2012 — 7:52am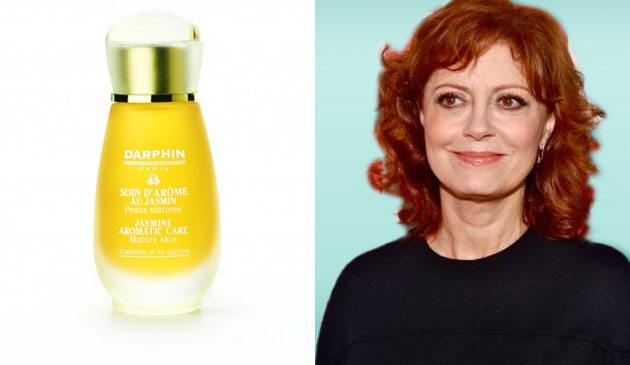 Susan is one of those women who is constantly busy doing interesting things, with interesting people, for interesting causes. I always learn something about the humanitarian efforts around town and around the world when I see her. I can't say I've learned how to be a great ping pong player since I've known her, but I have tried my hand at it while at her well-known ping pong club, Spin.
One thing I have learned (through some trial and error, I'll admit) is to use about 80% cream makeup products on Susan, relying on powder only for eyeshadow – which is always blended well and smeared along the edge with my finger or a q-tip -and the teeniest little bit of translucent powder on her T-zone to set her foundation. This months' Allure Magazine has a great article complete with makeup tips and tricks from makeup artists on how to look your most youthful, which aren't really applicable to the youngest models with whom I work, but for anyone in their very late twenties on up, I think these are some good rules to follow.  I see Susan again next week and I'll try to do a different look on her and blog about it soon, complete with a product shopping list. Did I mention that my mom and Susan bear a striking resemblance to one another?
This is what I used on Susan in the picture above:
Darphin Organic Jasmine Aromatic Care Oil (Smells delicious!)
Darphin Predermine Densifying Anti-Wrinkle Cream for Normal Skin (seals in the oil I just applied)
(I allow the above to settle into the skin for a few minutes before starting the foundation)
 Armani Face Fabric Foundation, SPF 12, This stuff will not settle into fine lines. I apply it very sparingly  – starting in the middle of her face and tapering off the further I get from the center – first with Armani's natural bristle foundation brush, and then lightly tapped into perfect submission with the Beauty Blender, a perfectly textured and shaped sponge (that was just thoroughly soaked and squeezed dry in a towel)
MAC eyeliner in Teddy – one of the best in brown/black/gold (smudge-able and long wearing). Drawn along both top and bottom lashes and dotted inside the lash line, and then smudged with a thin synthetic brush to create no hard edges.
Lancome Color Design Quad Eye Shadow in Showstopper Style (this is the best set of shadows I've found that works well on so many different skin tones). I generally don't use the lightest shimmery shadow in this quad (four different eyeshadow colors in one palette) on women over 45, as the highlight in the corner of the eye often looks overdone. Instead I use the tan shimmer all over her lid but not above the crease, as well as very softly under the bottom lashes before the liner, smudged with a q-tip.
Lancome Color Design Sensational Effects Eye Shadow Smooth Hold Matte in Mochaccino, which is a soft taupe-brown, which I use lightly along the outer edge of the lashes and gently fade towards the outer corner of her lid
Cover Girl Lash Blast Mascara in Very Black – enough to seriously coat the upper lashes
Kjaer Weis Cream Blush in Blossoming (one of the most incredible all natural  – 95% organic – makeup lines on the market. added bonus: beautiful refillable containers) I like to apply with a soft synthetic brush and then blend with the sponge in small taps.
Laura Mercier Lip Liner in Baby Lips – I first line her lips, and then fill them in with the pencil to help the color stay longer and appear more intensely.
Laura Mercier Creme Lip Colour in Tea Rose
Dr. Haushka Lip Balm in a pot, applied on top for a little added shine without any of the stickiness or reflectiveness sometimes inherent in lipgloss.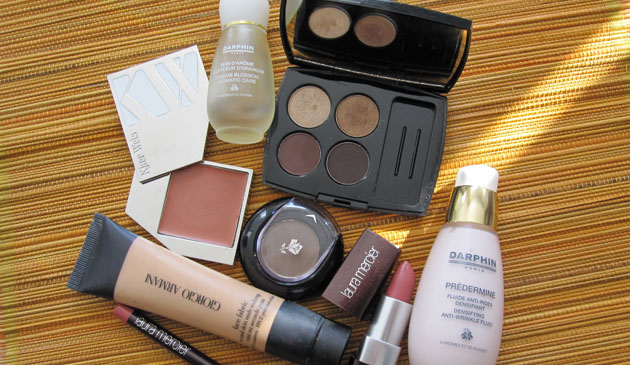 Comments Off on A youthful spirit with a face to match (& some products I use to accentuate that youth) | ...Here's how to