February 19th, 2012 — 6:40pm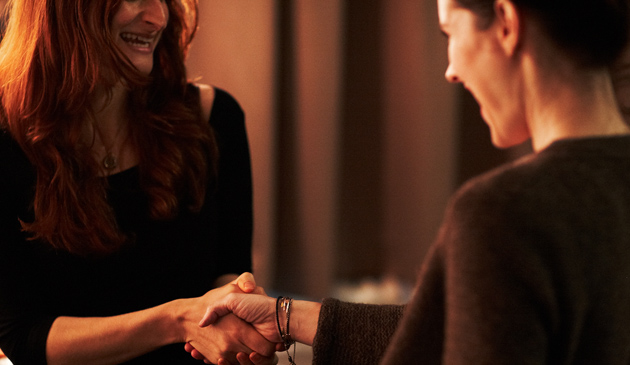 I love being introduced to someone for the first time. Whether it's the new client I'm working with, the model who'll be posing for the pictures, or the celebrity I'm getting ready so she can look her best as she walks the red carpet, I delight in every part of it.  I love the feeling of the unknown, of the: wow! anything-can-happen-here.
A first meeting presents a world of opportunities for all of us: we get to choose which parts of our personality we want to show that day, and we get to work on bettering our listening, connecting, and sharing skills. Plus, the sky's the limit on what amazing new things Mr. or Ms. New-To-Us is going to bring into our lives.
As a makeup artist in the fashion and beauty industry in New York City,  I meet at least 1 if not 25 new people a week at work. It's a lot to keep organized in the address book of my mind. However, out of all of these 1st time meetings, It's pretty much a sure thing that at some point, whoever sits in – or hangs around – my makeup chair is going to ask me something about moisturizer, lipstick, or how to best curl their eyelashes. By the time we've known each other for a little while (often this happens within the first 30 minutes of meeting) we begin mixing in other topics – from love, old hurts, nutrition, yoga… The list of things I'll yap about is endless.
This blog is like all of that for me. I imagine you as a new person in my makeup chair, ready to let me help you look and feel your best, both through the stuff I'm going to put on your face (or in this case, write about putting on your face), and through the way I'm going to relate to you, and the information I'm going to share with you.
I have many ideas about how this blog will go over time, but I'm not tied to any of them. I'm just open to possibilities and excited to be here. I'll be telling you about everything from my day-to-day work as a makeup artist, complete with how-to photos and videos, as well as products I've found, researched the heck out of and believe in, and in addition, information about ways to keep yourself feeling good physically and emotionally. Finally, because I still have a lot of social worker left in me (my prior career), I'll be sure to include posts about ways we can all be more actively involved in affecting change in our communities, and highlighting how people I know and admire are making a difference in their worlds.
I'm also very much in to living a healthy lifestyle, so I'll be incorporating non-toxic beauty products and  things of that 'green' nature, in posts whenever I can.  I feel like there's a real push in the collective consciousness towards this and I'm super stoked to be following on the path of the short list of other makeup artists and skin care experts who are pioneers in this realm.
Thank you for reading my first post. I hope you'll read more.
I don't know where I first heard this saying, but I really love it:
Every best friend was once a stranger.
Welcome to my life, my new friend!
Comments Off on Hi! It's so great to finally meet you. | ...We're all connected