September 5th, 2015 — 7:14pm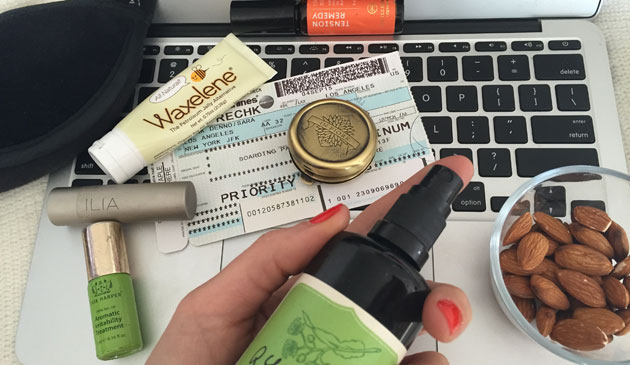 Over the past few years I found myself on an airplane as often as 3-5 times a month. It was awesome to travel so much, but in hind-sight, also pretty darn overwhelming. You'd think with all that travel I would've learned something about making my time on the plane comfortable and productive, and slowly but surely I did come to hone my skills at packing the perfect carry-on.
This is what I've been toting around with me as of late:
RL Linden Thousand Petals Facial Mist.I use this to spray my face, my hair, and the person next to me if they're stinky (kind of just kidding on the last part).
Waxelene – Petroleum Jelly Alternative: An easy to transport tube of healing, creamy ingredients that I use on lips, cuticles, and anywhere my skin (or hair) needs a little help.
In Fiore – This beautiful little compact contains a deliciously scented solid oil and wax blend that i like to use for my lips, around my eyes, and on my cuticles. A few years ago, the wonderfully talented hairstylist, Danillo, introduced me to this line, created by a good friend of his, but only recently did my friend, Spirit (of Spirit Beauty Lounge), reintroduce me to it. The whole line is incredible, although I'm still figuring out how, and on which body part to use each of the products.
Ilia Beauty's Balmy Nights to scrub away that corner-of-the-mouth-yuck.
Hope Gillerman's Tension Remedy Essential Oil Blend: I love Hope's whole line of products, and I've become very reliant on this to get me through plane rides and trips abroad.
Tata Harper's Aromatic Irritability Treatment – A beautifully blended myriad of scents I like to roll onto my wrists, temples, and sides of my neck. It's been a long-time favorite and it's another one of those multitasking products I often use as a perfume, as well.
My To-Go Ware travel utensils set. I always bring my own food on planes and I made a promise to myself that cutlery would be one way in which I'd cut down my contribution of landfill waste.
Individual eye drop containers – I slip one in my pocket and put one in whatever console/back of chair pouch is available. (My contacts tend to shrivel up on my eyes during a long flight.)
An orange, a handful of organic raw nuts (almond or walnut), a sliced up pepper, and depending on how long the flight is, something heavy and belly-filling to help lull me to sleep. Luckily the American Airlines terminal at LAX opened a Real Food Daily – a great organic vegan restaurant – so I generally stop there if I didn't make a meal at home.
Again, depending on the length of flight, if it's an exceptionally long one, I'll board with a clean face, and after 7-10 hours, I'll go into the ladies room, spray my face with the Be Happy antibacterial toner from Jenette's All-Natural Skincare and, with very clean hands, apply either Jenette's Be Clean face oil, Pai Rose Hip facial oil or Marie Veronique Organics Facial Serum (all of which I transfer from their larger bottles into teeny weeny ones).
My travel ipod. I have one specifically for traveling that's loaded with everything to pep me up when we're about to land and I've got a long day ahead of me, to tons of beautiful Hindu chanting music that I listen to over and over and over and over. Thank goodness for ear bud headphones!
An eye mask, this one from Bucky, in particular. I like this one because it doesn't press on your eyes, or the bridge of your nose, which makes me almost forget I'm wearing a mask.
The MacBook Air: This little piece of machinery has changed my life. For years I lugged around my 16 inch MacBook Pro, causing serious damage to my back and my shoulder. I have no idea why I waited so long to switch it up.
Despite the weight of my shoulder bag having dropped considerably when I switched laptops, I still frequently feel sore in the shoulders, and sometimes the lower back, so I've taken to packing the stick on or Velcro around disposable heating pads. I really dislike that I'm being wasteful with this, but the one time I tried bringing my deliciously lavender and husk filled re-useable heating pad, and asking the stewardess to heat it for me in the microwave, I was given a stern, perplexed look, and a very definite 'No'.
Comments Off on Pack Like a Pro with My In Flight Essentials | ...Here's how to