April 16th, 2013 — 1:12am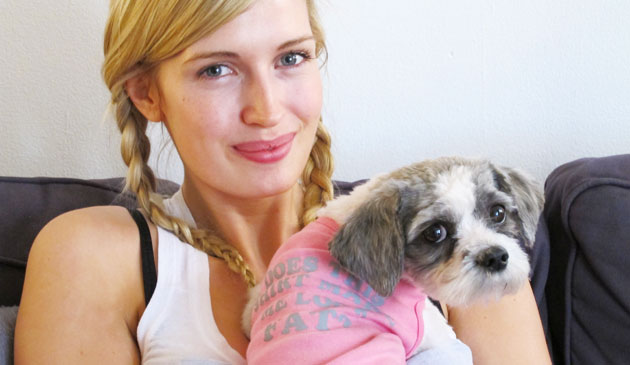 There are a number of things that make me cry, and going into the dog pound is one of them. When I was 16 I used to drag my friend to the local animal shelter every so often, and sit next to the cages and tell the dogs how much I loved them. It always broke my heart to imagine the stories behind how they wound up locked inside the cold metal cage bars, and I would leave with my black cat-eye eyeliner and mascara smeared down my cheeks. My family's first dog came home with my mom from a shelter soon thereafter: a blonde 5 year old cocker spaniel who we named Lucy, aka Woobie, whose furry snout I can still feel on my lips.
Back to Camilla and Polly. You may recognize Camilla's amazing lips from my earlier post here, but in that post I didn't share with you that in addition to being a model with Muse Models here in NYC, this stunning young Danish plus-size model has found the time to open her home and serve up love to 38 foster dogs over the past two years, which is really remarkable considering the amount of time she spends flying around the world for photo shoots. The day I photographed her lips I also took a bunch of shots of her with Polly, as the two were just getting to know one another. Note: Polly's sweatshirt reads: does this shirt make me look fat?
I asked Camilla to tell me more about how she came to foster dogs,and what becoming a dog guardian – while working towards placing them with their new parent/s – entails.
What made you decide to become a foster mom?
I've always had a big love for animals, but despite many attempts to convince my parents to let me get a dog, it never happened. I promised myself I would get a dog the moment I moved away from home, but once my career got going, I realized and accepted that I simply wouldn't have the necessary time to give a dog full-time. When I came to NYC 3.5 years ago, my desire to have a dog hit me really hard, and I knew I wanted it to be a rescue. After wanting to save all the dogs I met at an adoption event, I started talking with some shelter volunteers about my interest in adopting vs the actual time I would have to devote to it. It was at that event that I was first encouraged to foster, and it was explained to me that if I had to leave the country for a job posh pets  would let me bring the dog to another foster home. I loved the idea of helping to rehabilitate a dog, and to be involved in the process of finding it new owners. The following month I picked up my first foster at the local kill shelter. She was as sweet as can be, a 3 year old Bichon Frise, who I named Rose. She gave me a little kiss on the cheek as I carried her out of the shelter, and since that day I can't imagine my life without a dog.
You've fostered so many dogs! Do you remember Polly's story?
When I started fostering I used to say that it was unfortunate that I didn't know the dog's life story, because the majority of the time we really had no idea how they came to the kill shelter. As I became more experienced, however, I realized that "unfortunately" wasn't a good word to use because very often the situation from which they came was just so awful, I didn't want to know.
The fact is, most dogs end up in shelters because of neglect; whether it was because their owners didn't bother training, exercising, or grooming them, or that they physically or emotionally abused them – it's all neglect. Even if the owner gives a reason for surrendering the dog, 90% of the time, it's untrue. I've had fosters that were as sweet as can be, and when I read their intake papers, reasons for surrender to a kill shelter are sited as 'dog is aggressive'. Sometimes people will also say that they've found the dog as a stray to avoid paying the $20 owner surrender fee charged by the shelter.
The few times that I have known the reason for why a dog was given up, I wasted a lot of energy on being angry. I once fostered a 9-month old Yorkie named Drake who was surrendered because the owners had gotten him "as a toy for their 5 year old daughter", and when they realized how much time and attention he required, they didn't want him. That kind of thing happens so often.
What would you like people to know about fostering?
Anyone who's considering getting a dog should foster first because it's a great way to see if you're willing and able to change your lifestyle to accommodate a dog. It's a big responsibility, and takes a lot of time and energy to make sure that your dog is a happy, well-behaved, and well socialized animal. It's also a great way to test to see if a dog is a right fit for you – something that's difficult to do in within the 10 minutes you may spend with a dog in a store or a shelter before taking them home.  Even if the foster dog isn't the right fit for you, you can help it by making sure it's adopted by the right people – sometimes you have to kiss a lot of frogs before you find the prince…kind of like dating!
Is it expensive to foster?
It's all relative because it's not cheap, but still much less expensive than having your own dog. You pay for everything that goes on in your home – beds/food/toys, etc, because shelters have very limited funds. Usually they'll pay for a groomer and vet appointments + medicine. Keep in mind that anything you buy for the foster dog (in most cases) can be used as a tax deduction, because they're considered a donation. Even if it can't be deducted, though, it's still worth it because every penny you spend you'll get back ten times in love and kisses from the dog.
How do you help find new homes for your foster dogs?
People send in applications when they see the dog they like on a rescue website like petfinder.com or adoptapet.com, and then in my case, the ower of Posh Pets goes through all of them and forwards me the ones she thinks might be a good match based on what I've told her about my experience with the dog after I've gotten to know it for a few days. From there I set up appointments to interview the applicants and witness their interaction with the dog. 
I would like to note that very often I meet with a lot of great applicants before finding the right match – which means I turn away prospective dog owners who I know will be great dog parents, but just not for the dog I'm trying to place. I say this so that anyone who's applied and not been approved knows not to give up!
Finally,  have to say,  another great thing about fostering happens when I bring the dog to be groomed after years of neglect. On the way there the dog usually walks around like you or I would when we feel depressed, because on top of the matts in their fur hurting them, they're also mourning the loss of their previous life, even if it wasn't good. Then, when I pick them up after they've been groomed, they somehow seem to know that they look and smell good and that their new life – a life full of love – is about to begin. It's so beautiful to see and brings tears to my eyes every single time.
Where is Polly now?
She lives in the suburbs with a mom, dad, 3 human brothers, and 1 dog sister. They have a huge backyard – and she loves digging in their garden. Her dad rides a Harley, so she sits in a bag on the back of that, and they also have a boat, so she's been enjoying sailing in the summer.
Sounds like you found Polly a wonderful new life, Camilla!
You can check out more of the sweetheart pups Camilla has fostered on her website: camillahansen.com  (she's also a great photographer – their pics are so cute)
Thank you so much, Camilla!
One last thing: Camilla's 39th foster pup, Baxter, became her forever pup! Congratulations to the whole family!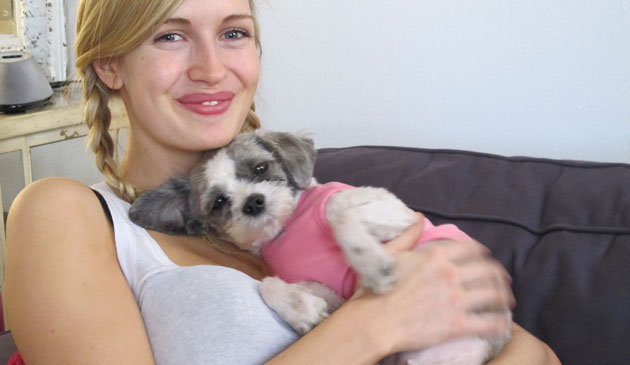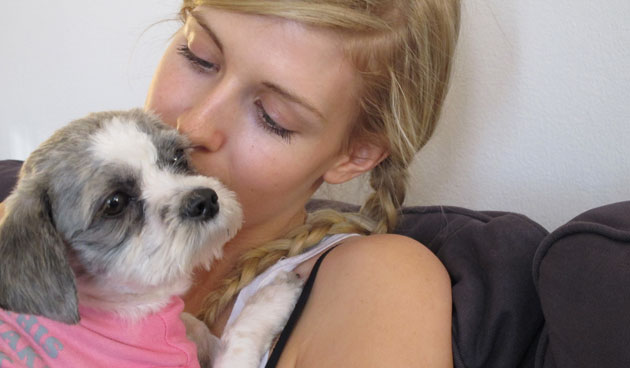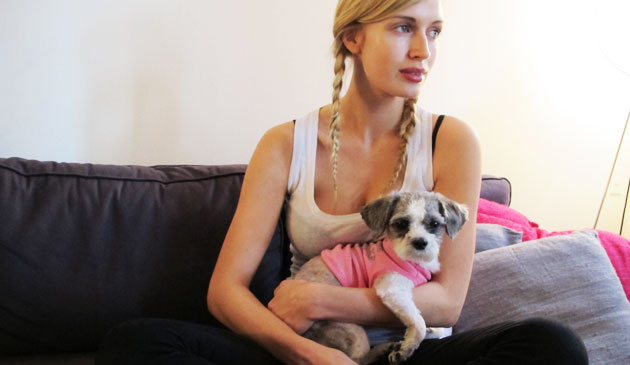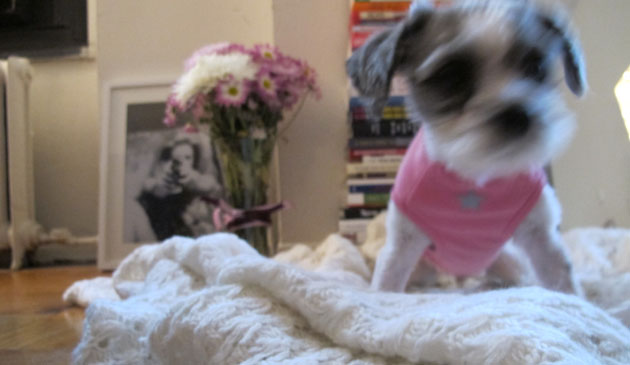 Comments Off on Meet Camilla, foster dog mom extraordinaire (and gorgeous plus-size model), & Polly, the 33rd pup Camilla helped find a forever home. | ...We're all connected