April 6th, 2013 — 4:00pm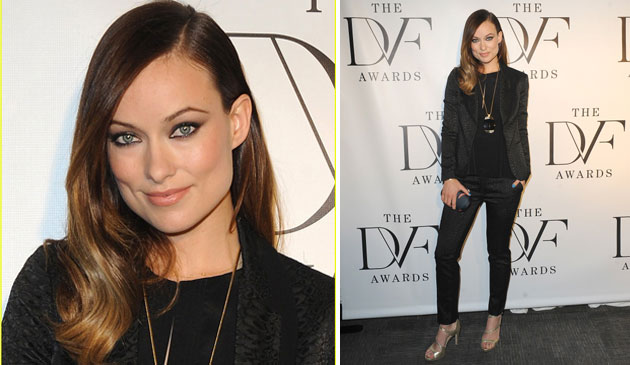 Every year the iconic designer, Diane Von Furstenberg, throws an awards event to provide recipients with the exposure and resources needed to extend their critical efforts on behalf of women's causes. Four individuals are honored who have displayed leadership, strength, and courage in their commitment to their causes, and this year, the beautiful Olivia Wilde was a presenter. I'm always happy to get clients ready for a red carpet event, but when it's for a cause that's so near and dear to my heart, it makes it all the better for me.
When I got to Olivia's apartment about two hours before she had to leave for the event, she showed me the gorgeous black pants suit she and her stylists had chosen, and said: "I don't know, I was thinking we should play up my eyes".  On my way to her place I'd been looking at photos of her from previous red carpet events -which I do before meeting with every client – to see which looks I liked her in the most. Olivia usually goes for a dramatic black liquid cat-eye or a rounded, very intense dark smokey eye, and in the moment she said "let's play up my eyes", what felt like 500 images of fun things I could do flooded my head. As her hairstylist began running mousse through her hair, I stood staring at the shadows and liners I'd laid out on her dining room table, trying to decide which colors to swirl around her eyes, and in what shape.
I knew I needed a minute to come to a decision, so I did what I usually do, and started with a face oil massage to get her circulation going, and to zone out on her face while she had her eyes closed. Within seconds it came to me, and I saw the completed look in my head, even before the oil had time to absorb.
The glowing skin is ultimately courtesy of Olivia's genes, of course, but I also always give a lot of credit to the base layer of hydration I lay down before I draw and paint on the skin, and in this case, Lina Hanson Global Face Serum made for a truly glowing-from-within look. Plus, the aromatherapy this oil provides to my clients (and to me) during the face massage has made it a mainstay in my kit (and my medicine chest). The scent is incredible, and the viscosity is perfect.
As for her beautiful eyes: I used three simple products:
a pale, sheer shimmery slate gray,
a medium dark matte smokey graphite gray, and
a black creamy eyeliner.
First I mapped out the overall shape I wanted using the pale gray. On top of that I precisely placed the medium/dark matte gray along the crease and outward, extending slightly up from the outer corner of her eye, and then I blended the hell out of it so there would be no apparent edge between the two shades. Then I went in with a black liner and thoroughly applied it on the inner rim of top and bottom lid, as well as dotted in between lashes. To complete the look I smudged it into the lash line on both bottom and top lid using a smudge brush.
I really love how this look turned out… and it's just like I saw it in my head during the face oil massage!
One final note: since everyone always wants to know the answers to these two questions about my clients,  I will tell you: Olivia is incredibly nice, and super beautiful in person without a lick of makeup.
Comments Off on Get this sultry yet understated eye & glowing skin I created for Olivia Wilde last night | ...Here's how to