April 8th, 2012 — 8:17pm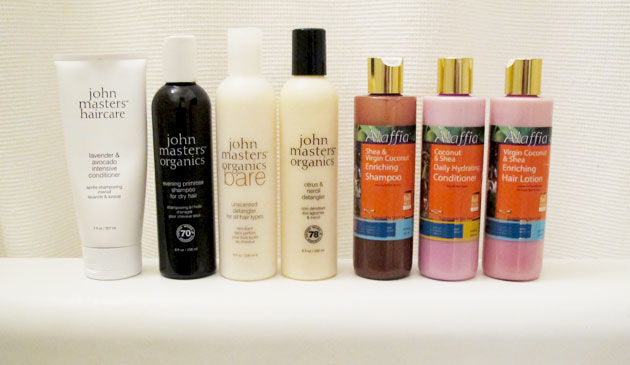 Without some product and a little time and focused attention, my hair is super dry and frizzy. In humid climates it expands. When I'm by the ocean or in the jungle, my hair curls right up into frizzy little ringlets and sticks out all over my head. I hope someone will remind me of this the next time I fantasize about cutting my hair to chin length again. I've learned that keeping the length of my hair past my shoulders is a must if I don't want to put three ounces of product in it to weigh it down every morning.
There are so many 'green' hair care companies on the market today putting out great products that really do the job of cleansing and smoothing without any of the harsh chemicals that our scalps and ultimately our blood streams and water ways just don't need. You can take your pick from shampoos that make the most of every hair type- from thin and fine, to thick and coarse, as well as conditioners made to keep colored hair looking vibrant longer and unruly hair in-check. I love the scents of all-natural hair care. I was always really turned off by the highly synthetic floral and fruit fragrances available from mainstream brands. I can smell them now a mile away.
Early on in my journey down the natural section of the shampoo and conditioner aisle,  a friend and I were discussing how unhappy we were with how our hair looked, sharing that we each felt so sad that our once silky and shiny locks were no longer so vivacious.  We had a good laugh when we simultaneously blurted out which shampoo and conditioner from our local health foods store we'd both been using for the past month- it was the same one, and we both hated the results!  I promptly switched mine up and saw a big difference. It's really all about trying a few until you find one that's right for your hair type. That's what I've been doing for the past few years, and I will admit that on occasion, I'll stray from the all-natural world of conditioner if I feel that my hair looks less than optimal, even after I've sat with coconut oil coating my tresses for an hour.  A little silicone from any one of the mainstream conditioners, and my frizz is usually back in check for weeks to come. Says a lot for the lasting power of silicone, right?! Kind of scary, kind of wonderful.
My current all-natural favorites are:
The two main things I keep in mind when evaluating which products in my beauty routine are the most important for me to keep as free from harmful chemicals as possible are:
Will I be using this on a daily basis, and
Will this come in contact with a large surface are of my body
Because shampoos and conditioners are first massaged into the scalp and then essentially coat the entirety of the skin (our largest organ!) as they're rinsed off, they are at the top of my list of must-go-green items.
Next in line to try: Intelligent Nutrients, and Rahua. I'll keep you posted! As always, if you love the products you're using and want to share, please drop me a line.
Comments Off on Friends & family: "Katey, which natural shampoos and conditioners do you use?" Me: "I'm so glad you asked!" | ...I'll test it for you