April 28th, 2013 — 6:16pm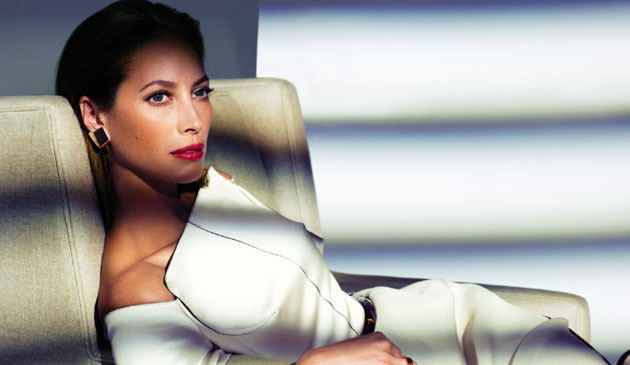 Christy was the first 'celebrity' face I touched. Early on in my makeup career I was fortunate enough toassist her long time makeup artist, Pati Dubroff, a number of times.  One year Pati was double – or maybe triple- booked for a red carpet event, and because of traffic, she just couldn't make it back to get Christy ready in time. When I got the call asking me to head to drop everything and head to Christy's house, I was over the moon excited. One of the most beautiful and iconic faces of my time – and I was getting her red-carpet ready!  It hardly seemed possible.
My disbelief continued, when, a few days later, my buzzer rang, and there at my door was a gorgeous purple orchid plant in the delivery man's hands. The card read something along the lines of: I'm so grateful to have you in my life. Thank you for making me look and feel so pretty.  With love, Christy.
Since that time nearly six years ago I've had the pleasure of doing her makeup on many occasions. I'll forever be grateful to Pati for trusting in me that day.
To get Christy's look, I used these products:
Eyes:
I blended three shades by Kjaer Weis: Cloud Nine served as the base, and I buffed it into the lid from lash line, nearly to the brow bone, and into the inner corner. I blended Earthy Calm into the crease, and under the buttom lashes and Onyx – a slightly shimmering slate, along the lash line.
A minimum of 5 coats of Nvey Eco mascara in black gives her amazingly full lashes.
Face:
Christy's skin was prepped with May Lindstrom Skin, The Youth Dew facial serum, and then I massaged Roots Rose Radish BLue Chamomile Face Cream into the parts that needed a little more moisture.
I perfected her skin with Vapour Organic foundation sticks, and swirled Desired Glow-a deep tan cream blush – from Kjaer Weis onto her cheekbones, and blended it down.
Lips:
Comments Off on Get this knockout makeup look I gave Christy Turlington for a recent photo shoot | ...Here's how to