September 9th, 2015 — 2:01pm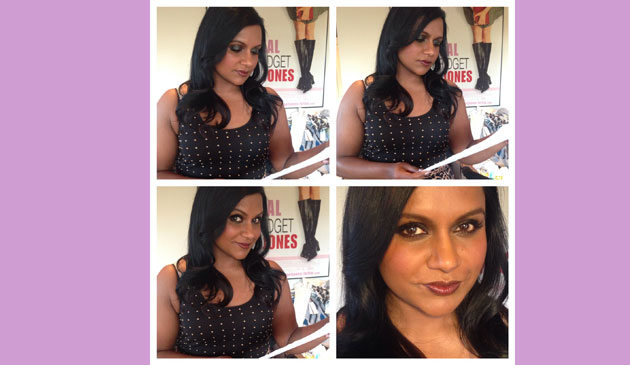 Mindy really is as cute and beautiful, smart and funny, and as much fun as you'd think she'd be. I've been inspired by all she's done since we first met a few years back. Plus, just being around her has made me rethink my usual uniform of solid color black, gray, navy, and white. Her love for bold color and clothing with print, pattern and design has rubbed off on me immensely.
I don't watch television at home, so I usually play catch up on The Mindy Project when I'm traveling by watching episodes back-to-back on the plane. Recently I was in a hotel room during a particularly long travel job, missing home and feeling downright homesick, so I decided I'd turn to the television to keep me company before bed. I casually turned it on and walked into the bathroom to brush my teeth, when I heard a familiar voice coming from the tv, and felt so overwhelmed with happiness – it was like I was sitting in Mindy's dining room, going over the hilarious night she'd had. I actually walked back into the bedroom and smiled at the television as if I had just run into an old friend.
In the pics above we were in Mindy's office, and it was one of those times she'd told me to go for it and make the decisions on the makeup look for the evening event she would be attending. I was particularly proud of myself for this one.
As always, the majority of products I used for the look are from the world of the green beauty market. If you're not familiar with them, follow the links to learn more about each one.  I've been focused on exploring the non-toxic cosmetics industry for years now and have found the best of the best.
On her eyes: I blended two Kjaer Weiss shadows, in 'Divine' + 'Onyx' all over her lid, and softly under her bottom lash line. I then carefully placed a bit of Alima Pure's shadow, 'Smoke' – a deep blue green shimmer –  on the middle of her lid and buffed it into her lid to give her an extra pop of color when batting her lashes. I lightly lined the inside of her entire eye with black liner and coated her lashes in a ton of mascara.
On her brows: I used a mixture of brown brow gel from Eco Brow in 'Liz', and a brown shadow called 'Espresso' from W3LL people to fill in her brows and make them a little extra intense.
On her cheeks: I'm not gonna lie- I've had a hard time getting all-natural cheek color products to show up, and last for hours at a time on women with complexions in shades similar to Mindy. I'm not sure why this is, but it has bummed me out on numerous occasions when I thought I'd given her a really pumped up cheek, only to see photos of her from the nights' event, looking like I'd forgotten her cheeks entirely. In this case I turned to a blend of powder cheek colors from Tarte (a not-natural, but really great color line) in 'Tipsy' and 'Natural Beauty'
On her skin: I've tested every green beauty product foundation on her skin and have yet to find one that's as perfect a match, and as long lasting as ones from Smashbox and Makeup Forever. Mindy also turned me onto using a foundation from Kat Von D that works really well for her complexion. I also really love using both the Secret Camouflage concealer from Laura Mercier, as well as the Bobbi Brown foundation sticks, to even out her skin on the quick. I've been setting her foundation with a powder foundation from W3LL People with good success in both oil control and color matching.
Finally on Miss Mindy's lips: I used a blend of burgundy and red lip colors, including: the Aura multi use stains from Vapour Organic Beauty in 'Lure' and 'Impulse'.  Generally speaking, I'm not a fan of overly glossed lips. In most cases I'll just press a teeny bit of a gloss into the middle of the bottom lip and have my client purse her lips to add moisture and a touch of shine. For Mindy, I pressed a drop of 'Bitten' gloss from Vapour Organic Beauty into her pout with my ring finger and stood back to admire how gorgeous it had all come together!
Comments Off on recreate this sultry makeup look I gave beauty girl Mindy Kaling | ...Here's how to